We're on our way home
23/03/11 04:25
This is being typed a couple of hours into the flight. Time-wise we've had a full day, but of course much of the second half of it has been at the airport. Anyway, back to this morning...
A combination of two large bottles of beer from the convenience store last night (could you tell with the writing?) and general disorganisation with the diary etc. meant it was gone 01:00 before I turned in. That meant Kay was up and ready a fair while before me this morning. Even so, we'd packed and were ready to roll by 08:00. It was a beautiful sunny morning, though the doom & gloom on the tv wasn't far away as apparently tomorrow is going to be another stormy day. Oh dear.
Having dumped the cases in the car - another huge advantage of our own transport - we strolled along Main Street and over San Mateo County's first ever concrete bridge dating from 1900 - facts proudly recorded on a plaque. On the other side of the bridge is the Half Moon Bay Coffee Company.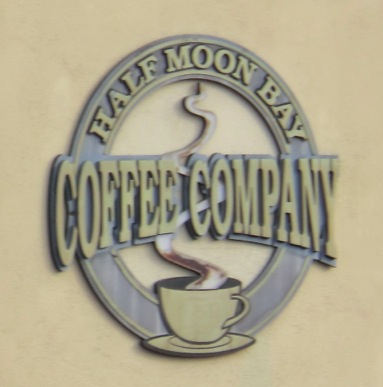 This establishment kindly provided us with an excellent breakfast which, by the time we'd done swapping stuff we liked/disliked between us, amounted to an egg & bacon bagel for Kay and hash browns, bacon and toast for me. Washed down by coffee, of course, given the name of the establishment.

Back to the car, having witnessed a bit of a traffic jam in Main Street caused by a Budweiser delivery to the 'Emporium". I comment on this as Half Moon Bay, even on a Tuesday morning, gives such an impression of laconic peacefulness that two cars waiting amounts to a traffic jam!

We set off north along Highway 1 - the Pacific Coast Highway. First stop was HMB's twin settlement just up the coast where there is a cluster of hotels, a marina, the Half Moon Bay Brewing Company (shame it was too far to walk!) and an airport. The ocean views here, despite spawning an hotel of that monicker, are not brilliant as the Pacific is tamed somewhat by the marina. Not a shabby corner of the world though.

Still onwards toward Pacifica with a further photo stop at a State Beach [with no internet as I type this, I can't look up names - see the map on Flickr of the photos when they're uploaded]. This was just as stunningly beautiful as every other location we've chosen to watch and listen to the ocean. There were very few people about, despite the free car park being right next to a major highway.

A little further north there is a huge building project going on to tunnel through the headland as, quite clearly, they are expecting the ocean to claim the highway sometime in the future. Lots of shoring up work has evidently gone on (and continues) but sooner or later it is clear there's only so much humanity can do to stop nature.

Pacifica is a bit of a dump. We went down to the sea front mainly as somewhere to stop and consult the map. The most striking thing about Pacifica Pier is it appears to be a pick up point for casual labourers meaning there were a lot of gruff looking men hanging around.

We decided that we were as far north as we wanted/needed to be, so set a course in the SatNav to take us to the Hillsdale Shopping Center at San Mateo, where we were on Sunday. Kay has something she wishes to return to Old Navy for exchange - and that's as much excuse I need to visit a mall with Barens & Noble, SBs and an Apple Store! This was the only time on the trip I'd bothered with the SatNav for anything other than its 'moving map' capabilities. I have to be honest and say I'd have never managed the twisty route over hill to the Bay side of the Peninsular without it.

Kay's mission in Old Navy was accomplished while I mooched in B&N, so we wandered the length of the mall looking at bits we missed on Sunday. SBs looked full and we were both still coffeed-up from breakfast, so we passed it by. Shock! Instead we decided to look in Sears as this was one of the big brands which hadn't received our attention this trip. As our bags were packed (albeit with a bit of spare capacity in my case) I certainly wasn't intent on buying. Kay's philosophy is if it's a bargain then damn the logisitics, so she was on her marks as we entered. I wandered into the men's department and was quite taken by the prices. So when I saw a rail of coats, despite not being in the market for one, I had a cursory look. One in particular looked up my street, a microfibre Covington bomber style jacket with pockets in all the right places and it fitted perfectly (long arms and all). When I saw it was marked down from $100 to $19.99, it had to be mine!

The irony of having survived the rainy days in nowt but a fleece and/or a lightweight jacket and then buying a bloody good coat on the last day (which was sunny) was not lost on me.,

Kay got as far as queueing at the checkout for something, but decided against it in the end, so it was only me who contributed to Sears' turnover today. Back along the mall, resisting to visit the Apple store as I'm wearing a polo shirt bought in the Company Store yesterday, and that would be just too nerdy even for me.

Back at the annex to Hillsdale where we'd parked, there is a place called The Counter . This is a "custom burger" restaurant. On entering we were given small clipboards on which a pad of forms is mounted. The idea is you go through the form, ticking the meat for the burger, the size, the method of cooking, the bread, the toppings, the relishes. etc. The entire thing is custom made to order. There's a conventional menu on the back of the clipboards too, but I thought it was a really good idea. This, of course, is from the world's faddiest eater and the opportunity to keep things plain and simple whilst adding the things I like was excellent. [It lead me to think how this ought to be extended to an iPhone App - and how it could include payment and ordering of all food & drink. I'm very sure Mr. Jobs is way ahead of me on this one and I expect to see this sort of ordering appearing very soon]. This was a good start, however.

The burger when it arrived was to die for. Kay was slightly less adventurous having a cheese and ham sandwich, but that is probably due to a decent breakfast just a few hours before and less of a gluttonous nature than me. It seemed to go down well though. We'd ended up skipping the idea of a last night steak, by the way, so this was my substitute!

Then it was all over. Time to retrace our steps onto Hwy101 and turn in the car. When we left it we'd managed the grand total of 189 miles. Check in was quick and easy. I'd tried Online Check In both last night and this morning but the system wouldn't let me. The desk agent told us that was because the flight is full. In any event, we were allocated bulkhead seats - 18H & K, so as well as wide seat we've ample leg room too. Premium Economy resulted in us getting access to the Priority line at security, but as it happened, it wasn't busy and we had plenty of time, so it counted for nothing. The screening at SFO is the new all body scanners, with an option of a pat-down if you're queasy about the security staff seeing your bits! Seems a bit of a slow and cumbersome process, but I guess it's effective in the end?

Things took a slightly sour turn at this point as we decided to spend our remaining currency in the news/gift shop. Turned out we were a dollar short of what we'd selected. Not a problem, just take off the packet of sweets, I suggested. Oh no, the clerk said in a barely comprehensible accent, once it's scanned only a manager can take it off, we would have to pay on a card! I invited him to call a manager then, and when he declined I suggested in my own way he could keep the lot and went to walk out. Kay was more diplomatic and fished in her purse for shrapnel, ending up paying the balance in what looked like a handful of dimes! The queue building behind us was not happy, I wasn't happy and the clerk couldn't give a shit. Rules is Rules. Regular readers may recall I had a bit of a strop with airport retail flunkies at JFK last time. I leave room for the possibility it is me, but this was the first even remotely awkward episode in the trip. I suspect it is the airport culture of slavish adherence to procedures which is at least partially to blame.

The rest of the time waiting for the flight passed by. We were waiting at a gate shared with Virgin America whose gate staff are certainly characters. A PA call for some missing passengers on a flight for Dallas described them as "awesome customers and we'd really hate to leave with out you. Please, please, please hurry up as the gate is closing in exactly one minute". The LA flight was leaving from the next gate and it was interesting to watch and listen to how they were cajoling, then bribing, then "mandoing" the passengers to check their larger rollalongs, "because we're really really full today".

Our flight boarded at 18:00, pushed back at 18:40 and was wheels up at 19:00, heading along the Bayside and over some of the ground we'd covered yesterday before getting up into the cloud. About half an hour in, Kay pointed out the window to the snow on the ground - my camera's GPS was still on and it revealed this to be Reno, Nevada. By then it was getting dark and that was about it for the view.

The meal was served pretty quickly to allow folk to get their heads down and was half decent. Served on real crockery and with real cutlery is the main distinction of Premium Economy - with a greater amount of attentiveness as well. Baileys or Brandy after dinner is something that doesn't happen a the back, either!

Time to try and get some sleep now, I think..